Webinar "COVID-19: When will it be safe to loosen the restrictions?"
COVID-19: When will it be the safe to loosen the restrictions?
 Many people in the world is now questioning, when will this lockdown due to COVID-19 pandemic will be over? Several countries and cities have started to loosen the social restriction/lockdown. Another question then arise, when will it be safe to loosen the restrictions? Considering that the corona virus is still with us and we have not yet found the cure and the vaccine yet. We do not want to have other waves of the increase cases.
To answer that question, on May 28, 2020, a webinar titled: "COVID19: When will it be safe to loosen the restrictions?" was organized by the Australia-Indonesia Collaborative Programs on Sustainable Development and Climate Change (CAIPSDCC), a joint collaboration between the Institute for Sustainable Earth and Resources (I-SER), Universitas Indonesia and Griffith University, Australia. This is the second webinar of the CAIPSDCC webinar series with the umbrella topic of Planetary & Human Health to Fight Global Pandemic.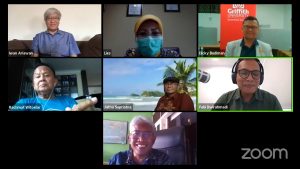 No less than 600 participants joined the discussion online through Zoom and YouTube, showing a clear interest on the topic by the public. Prof. Rachmat Witoelar, CAIPSDCC's advisor, opened the session stating that the community must be made healthy first, then we can move on to restore the economy, a low-carbon and a sustainable one. The government needs to follow WHO's directions by making it a policy and communicating it clearly to the public. Both of these actions need to be implemented consistently.
The discussion was led by Dr. Febi Dwirahmadi from Griffith University's School of Medicine and were presenting several key figures:
Dwi Oktavia Handayani, M. Epid, Head of the Disease Prevention and Control (P2P) Division, DKI Jakarta Provincial Health Office;

Iwan Ariawan MS, Dept. Biostatistics and Population, Faculty of Public Health, University of Indonesia;

Dicky Budiman M. Sc. PH, PhD (Cand.) Center for Environment and Population Health (CEPH), Griffith University;
During the discussion, the DKI Jakarta Provincial Health Office, stated that currently the Provincial Government is in the process of reviewing the plan for the relaxation of the restriction by referring to WHO criterias, including epidemiological criteria, health system criteria, and health surveillance system criteria.
Epidemiological criteria include:
A decrease of at least 50% over 3 weeks since the last peak and a sustained decrease in the incidence of confirmed and probable cases observed

<5% positive sample of COVID-19 for 2 weeks

<5% positive COVID-19 samples among ILI samples over the past 2 weeks

At least 80% of cases come from the contact list

A decrease in a number of deaths in confirmed cases à3 last week

A decrease in an ongoing number of treatments in the hospital and emergency room over the past 2 weeks

A decrease Additional mortality rates according to age group due to pneumonia
Health system criteria include:
All COVID-19 patients can be treated according to standards. All patients with severe disorders other than COVID-19 can be treated according to standards.

No increase in deaths in hospitals due to disorders other than COVID-19.

The Health System can absorb to handle a 20% increase in COVID-19 caseload.

There is one infection prevention and control focal point (PPI) in all health service facilities and district /city level
Health Surveillance system criteria include:
New cases can be identified and reported, and data entered into epidemiological analysis within 24 hours.

Possible cases and confirmation of COVID-19 must be reported immediately according to the requirements of a national notifiable disease.

Strengthened surveillance is applied in closed residential areas and for vulnerable groups

COVID-19 death related surveillance is carried out in hospitals and in the community

The total number of COVID-19 virus laboratory tests carried out is reported every day

Community health rapid response teams function at each appropriate level of government

90% of suspected cases are isolated and confirmed / discharged within 48 hours of the onset of symptoms

Contacts of at least 80% of new cases are tracked and quarantined within 72 hours of the new case being confirmed

At least 80% of new case contacts are monitored for 14 days

There is an information and data management system to manage contact tracking and other related data
To meet these criteria, Jakarta conducted an aggressive testing method. In collaboration with 36 laboratories, testing results can be obtained up to 4000 per day with the waiting time for specimen examination to be shortened to 2-3 days, and will continue to be developed so that it can be 24 hours.
Iwan Ariawan MS from the Faculty of Public Health, University of Indonesia enriching the discussion by sharing the data analysis from Google Mobility. In April, the social restriction policy succeeded in pushing people to stay at home. Looking at the Jakarta case, when the number of people living at home reached 60%, there was a decrease in new cases. The SARS-COVID-19 reproduction number (Rt) in Jakarta could reach a rate of one (1) when 61% of the population obeys the stay at home order. On a national scale, the ideal number is smaller, which is at 49% considering the less dense population than Jakarta. However, currently, it is still at the rate of 46%.
Ideally Rt needs to be pressed below one. That is, every 1 person infected transmits to 1 other person. With a number below one, the number of new cases will decrease. Jakarta has reached the Rt figure below 1 sometimes ago, which was an indicator that the epidemic has been controlled, compared to the national Rt rate of 1.2. But when many people abandoned the stay at home order immediately, the Rt rate increased again above 1, especially during the month of Ramadan, where many residents leave the house.
Social restrictions clearly support COVID-19 countermeasures by reducing the spread of infection. The more people who stay at home, the lower the Rt number. When the Rt has been stable below 1 for 14 days, then the government can move towards the relaxation. Indonesia needs to wait a little more.
Dicky Budiman from the Center for Environment and Population Health (CEPH), Griffith University stated that the handling of a pandemic always uses the principle of testing, tracing, treating, and isolating strategies. Lockdown or a regional quarantine, as well as physical distancing are only supporting strategies. When this policy is taken, testing, tracing, treating, and isolating must continue to be implemented, improved even. When we are careless in prevention efforts, there is a threat of a second, and even third, peak case. The behavior of the community hold an important key in handling a pandemic. Relaxation or easing must also be done in stages. WHO states 6 stages for loosening the lockdown:

Surveillance/strong supervision related to the transmission that occurs.

Adequate health system capacity for detection, isolation, testing and contact tracing.

Minimizing the emergence of new outbreaks in special areas such as health facilities and nursing homes.

Procurement of facilities and infrastructure to prevent the spread.

Good import case management.

Communities and individuals must be educated, empowered, and involved in steps towards "new normal".
In Queensland, Australia, which is currently at the stage of easing the social restrictions, the capacity for testing continues to be increased and is already at 10,000 per day. Contact tracing is also conducted aggressively. In order to detect COVID-19, people who are experiencing a fever or previously had a fever are advised to take the test. There are also various arrangements for maintaining distance at public locations and public facilities.
The 'New Normal' can be divided into two scenes: the community/individual level and the institutional level. At the individual level, educational efforts must be carried out immediately. At the institutional level, in addition to education, implementation must be conducted in regards of the character of each specific sector, by considering many factors and involving experts from various fields. The 'New Normal' is not just eliminating the lockdown, but it includes new daily behaviors that must be adopted by the community at a large scale in order to deal with COVID-19 which is still around us, while we do not have the definitive drugs or vaccines to handle it yet.
Policy makers should not implement the relaxation policies too quickly and in a sudden manner. It must be planned and implemented with careful preparation, because otherwise, this will lead to ineffective policies and another peak of cases.
The material of speaker and press release can be downloaded here
Webinar can be watched in